Necessity - the Mother of Invention

Loulou Lollipop is the brainchild of two ambitious twin sisters, Eleanor & Angel. As a mother of a teething baby, Eleanor searched the internet for a minimalistic and fashionable teething toy that doubled as an accessory for her but was unable to find it.
After discussing the problem with her twin sister, Angel, they decided to make a toy of their own. Thus, creating Loulou Lollipop.In 2015, the two sisters started handmaking aesthetically pleasing teething necklaces from their homes. Opening at the peak of social media, the sisters leveraged Instagram to market their unique and whimsical products.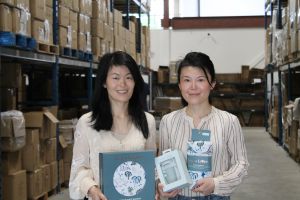 For the first 4 years, Angel and Eleanor made the necklaces, shipped out the orders, and managed the social media/customer service by themselves. In 2018, overwhelmed by the demand, Angel and Eleanor decided to move out of a home-based office and hire their first full-time employee.
Today, they employ around 25 people at their facility in Richmond. They chose to locate the business in Richmond because it is their home and as working mothers, they wanted to be close to their children.
Loulou Lollipop's products are available at several retail stores across the US & Canada as well as through an online store. Right now, they are working towards using more sustainable business practices. They are on a mission to delight their customers.
---
JOIN THE CHAMBER
Discover a new world that will help you grow and better your business!
Testimonials
"Richmond Chamber gave us an opportunity to host a networking event which created a wealth of new business relationships and enabled us to not only save on costs but to also know our business is supporting other like-minded vendors." 

Lily Cheung, Director of Operations - The Arts Conservatory