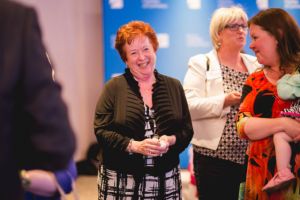 Carol Young diligently worked at the Richmond Chamber of Commerce for 25 years, from 1991- 2016. Carol began her career at the Chamber running the front desk and ended her tenure at the top, as the Executive Director of the organization. In between those two roles, Carol liked to joke that she did every job possible… with the exception of book keeping.
The Carol Young Scholarship
Carol Young is a testament to success through hard work and perseverance. During her time at the Chamber, she overcame adversity but nonetheless grew as a leader.
This $2,500 scholarship is intended to recognize students who exemplify the traits which Carol lives by and to assist them in beginning their post-secondary journey, be it academic studies or the trades.
The Carol Young Scholarship will be awarded to students who have overcome significant adversity in their lives. In spite of the challenges they have faced, they will have demonstrated improvement through their work ethic and have inspired fellow students, sponsored by the Richmond Chamber of Commerce.
Submit Your Application
Deadline is May 22, 2023.
JOIN THE CHAMBER
Discover a new world that will help you grow and better your business!
Testimonials
"Richmond Chamber gave us an opportunity to host a networking event which created a wealth of new business relationships and enabled us to not only save on costs but to also know our business is supporting other like-minded vendors." 

Lily Cheung, Director of Operations - The Arts Conservatory