The Business Excellence Awards have been celebrating the best of Richmond business community since 1977. These organizations are the innovative leaders and driving force behind Richmond's vibrant economy. Almost 14,000 businesses are licensed in Richmond – only 30 nominees move on to the finalist stage each year, with 10 recognized as award recipients.
The Business Excellence Awards are the most important event of the Richmond business calendar. Richmond's outstanding businesses (from large corporations to solopreneurs) are recognized at a gala event (virtual or in-person as restrictions allow), celebrated in media and throughout the Chamber's network for the rest of the year.
WHERE: 
River Rock Show Theatre
8811 River Rd, Richmond, BC, V6X 3P8, Canada
WHEN: 
Wednesday, November 22th
Champagne Welcome Reception: 5:30 pm
Dinner & Gala: 6:30 pm - 10:00 pm
TICKETS: 
$174 per attendee + GST
$1,625 for a table of 10 + GST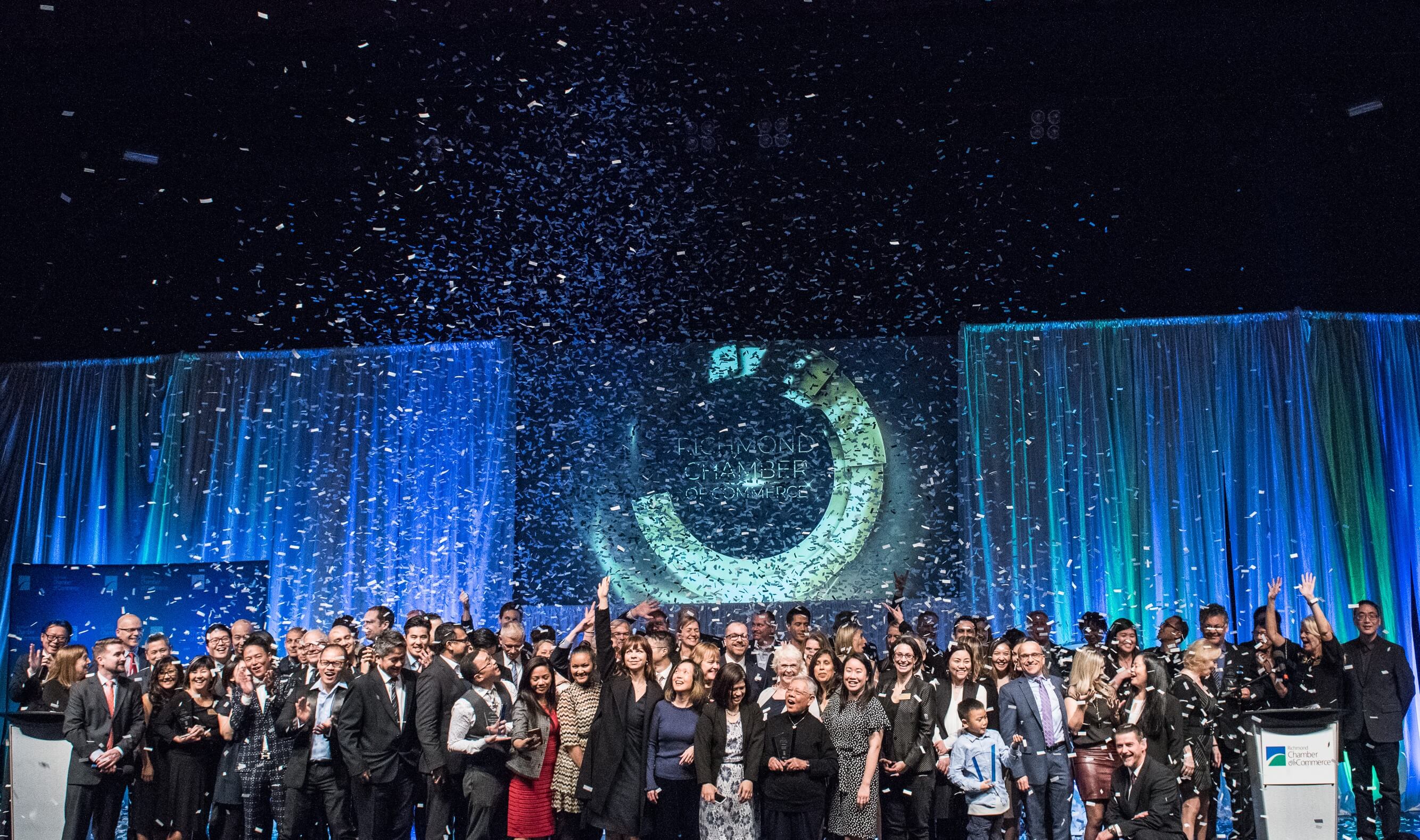 JOIN THE CHAMBER
Discover a new world that will help you grow and better your business!
Testimonials
"Participation in the Richmond Chamber of Commerce has proven to be an excellent way to connect with, contribute to, and learn from the Richmond business community. As a young business professional myself, the Chamber of Commerce has directly impacted my growth and success at Novex. This is largely due to the hardworking staff who put on numerous events and are always available to offer their support to members."
Brett Surgenor, Brand Manager - Novex Delivery Solutions
Business Excellence Award Categories
SMALL BUSINESS OF THE YEAR
Honours a business with 1 – 10 full time employees that demonstrates continual business growth and leadership that operates with integrity and passion while being committed to the wellbeing of all employees and the wider community.
MID-SIZE BUSINESS OF THE YEAR
Honours a business with 11 – 50 full time employees that demonstrates business excellence as a noteworthy employer, with a focus on financial success and a superior business model.
LARGE BUSINESS OF THE YEAR
Honours a noteworthy enterprise with more than 50 full time employees that leads with vision and has demonstrated continued success.
BUSINESS LEADERSHIP OF THE YEAR
Honours a business that demonstrates sound business practices, leadership in their industry, and a positive impact on the Richmond community. The business provides inspiration and acts as a role model for other businesses in employment and industry standards.
OUTSTANDING WORKPLACE OF THE YEAR
Honours a business that excels while demonstrating a commitment to the physical, intellectual, and emotional support of employees through the work environment, benefits, vacation and paid time off, performance management, training and skills development, and community involvement.
INNOVATIVE ENTERPRISE OF THE YEAR
Honours a business that demonstrates the use of innovation to create a significant positive impact on society. The business displays vision in the development and launching of new technologies, products and/or services and demonstrates the ability to take risks.
NEW BUSINESS OF THE YEAR
Honours a newly founded, independent business that is achieving outstanding business performance in a short period of time, demonstrates exceptional promise for continued growth and serves as an inspiration for other new businesses. The business must be 3 years or less from the date of incorporation or the first day of operation.
ASSOCIATION OF THE YEAR
Honours an incorporated, not-for-profit, society that demonstrates organizational leadership and measurable success, as defined by the organization, in achieving its mandate.
GREEN BUSINESS OF THE YEAR
Honours a business that demonstrates success and leadership with its sustainable business practices.
YOUNG ENTREPRENEUR OF THE YEAR
Honours an entrepreneur under the age of 40 who excels in business, exemplifies leadership and entrepreneurial skills and demonstrates exceptional vision that contributes to business success.
What It Means to be a BEA Recipient