Leading the Restoration Industry Since 1991

Platinum Pro-Claim Restoration, founded by Tony Scott, is a restoration company that specializes in repairing homes primarily from fire and flood damage. Starting at the age of 26, Tony didn't foresee the level of success his company has achieved today.
Tony has been in the restoration industry since his teenage years. However, with little knowledge of running a company, his journey to success consisted of a lot of trial and error. Now, over 30 years later, Tony manages a team of around 184 people and attributes the company's success to them.
To Tony, success is creating a work environment that makes people smile and come to work happy. He believes the reason people like working at the company is because of their colleagues and the fun workplace atmosphere (also office dogs). Platinum Pro-Claim is also the recipient of the 2019 Outstanding Workplace of the Year.
Tony calls Richmond home and loves the close-knit community, which is why he chose to move his business here. He appreciates building close relationships with the businesses he frequents in his local communities.
Tony believes in the philosophy "you take from the community; you give back to the community". This is why Platinum Pro-Claim participates in several different charitable initiatives, including collaborating with the Richmond Christmas Fund for a Toy Drive annually. This year, they helped collect a total of $26,304 in cash and 1.6 tons of donated toys.
Greenest Restoration Company in Canada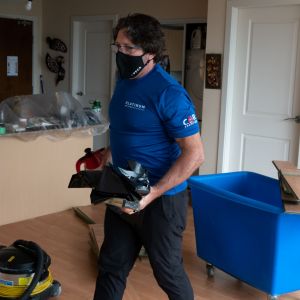 Platinum Pro-Claim Restoration has staked their claim as the greenest restoration company in Canada. They have implemented many sustainability initiatives to ensure they do their part in limiting their climate footprint. This includes participation in activities like Shoreline Cleanups and moving towards electrifying their fleet.
Tony found his commitment to the environment at the top of a mountain. During one of his many hikes, he noticed that what seemed like fog covering the city was actually smog. At that moment, he realized how bad the quality of air in the city was. While it may have made the scenery look beautiful, it is doing the very opposite to our bodies and this planet.
Tony explains this experience as a prominent motivator for Platinum Pro-Claim's move to electrify their fleet. Today, Platinum Pro-Claim has managed to electrify 25% of their fleet and aims to increase that to 50% by 2026. Moreover, their on-site sorting facility and dedicated "garbologist" ensure they reduce, reuse, and recycle literally everything they can. Sustainability is truly at the heart of their culture.
---
JOIN THE CHAMBER
Discover a new world that will help you grow and better your business!
Testimonials
"Richmond Chamber gave us an opportunity to host a networking event which created a wealth of new business relationships and enabled us to not only save on costs but to also know our business is supporting other like-minded vendors." 

Lily Cheung, Director of Operations - The Arts Conservatory