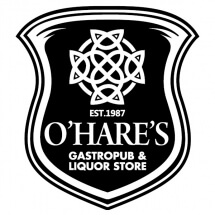 In 1987, Jack O'Hare's dream of owning a pub became a reality. Together, Jack and his wife, Jane, worked hard to bring a piece of Jack's homeland, Ireland, to his new home, Richmond. After its opening, O'Hare's became the first pub in British Columbia to serve Guinness imported straight from Dublin.
After years of dedication, Jack and Jane have retired, passing the business on to the next generation of the O'Hare family. Their daughter, Erinn, and son-in-law, Grant B, are now maintaining the legacy of O'Hare's, serving a new generation of Richmondites. With the help of around 40 employees, Erinn and Grant operate the family business.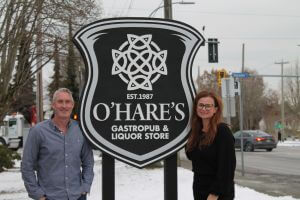 Like most businesses, the past couple of years have been challenging for O'Hare's. However, no amount of challenges ever compromised its legacy. For years, O'Hare's has welcomed people of all ages to sit back, relax, and prepare to have a good time at their cozy Steveston location. As Grant describes it, O'Hare's is a place where you feel at home.
Attached to the pub, you'll also find O'Hare's Liquor Store. The liquor store offers one of the best selections of local and international boutique wines, beers, and spirits in the Lower Mainland. They stock over 200 products that are not available in BC Liquor Stores.
O'Hare's has become a cornerstone of the Richmond community, after nearly 35 years of operation. This reputation of O'Hare's has solidified even more through Grant and Erinn's deep commitment to the Richmond community.
Erinn and Grant are both involved with various charity events and associations including the Richmond Chamber and have also produced events such as Steveston Beer Fest and Steveston Wine Fest.
Grant serves as a member of the Richmond Chamber of Commerce Board of Directors and Erinn serves as Vice-Chair of the Steveston Merchants Association. Erinn and Grant believe involvement in these activities and associations allows them to connect with Richmond on a personal level and give back in a unique way.
---
JOIN THE CHAMBER
Discover a new world that will help you grow and better your business!
Testimonials
"Richmond Chamber gave us an opportunity to host a networking event which created a wealth of new business relationships and enabled us to not only save on costs but to also know our business is supporting other like-minded vendors." 

Lily Cheung, Director of Operations - The Arts Conservatory