Turning Trash into Treasure Since Its Humble Beginnings

Founded by Barry Hartman and Scott Foran, 505-Junk provides junk removal and recycling service to commercial and residential clients. They are one of the first junk removal companies in BC to offer a pay-by-weight model to their customers. In 2022, they were ranked one of Globe and Mail's fastest-growing companies in Canada.
Sustainability is at the core of 505-Junk's mission. Their goal is to help people regain space in a sustainable way, whether it's a construction site or someone's home. They do their part in keeping as much junk out of the landfill as possible, by working with charities, transfer stations, or recyclers.
Nearly 12 years ago, 505-Junk was started from a basement by two KPU students with little money but a great vision and ambition. They wanted to take a unique approach to junk removal. However, Barry and Scott had to first navigate through the financial challenges.
As young entrepreneurs, they sought the help of Futurpreneur and were able to secure a loan of $15,000. With this, they purchased their first truck and customized it to feature an onboard weighing system. These custom trucks allowed clients to be charged by exact weight on site instead of estimated material.
Going Beyond Junk Removal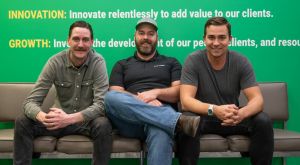 Now, Scott and Barry along with their third partner (who was also their first employee), Alex Elsey, lead a team of over 45 employees in Richmond. 505-Junk chose Richmond as its home base due to its central location that provides easy access to the highway, recycling depot, and other cities in the area.
They attribute the success of 505-Junk to the team they have built over the years. From the truck drivers to the office staff, Barry says that everyone enjoys the work they do and comes to work happy. The team's dedication and love for their work has translated to the level of service they provide.
According to Barry, their customer service is the most unique and attractive thing that brings people to 505-Junk. They don't just provide a junk pickup service, they aim to create a customer experience that goes beyond that. Their friendly truck teams go above and beyond to make junk removal a highlight of their client's day.
---
JOIN THE CHAMBER
Discover a new world that will help you grow and better your business!
Testimonials
"Richmond Chamber gave us an opportunity to host a networking event which created a wealth of new business relationships and enabled us to not only save on costs but to also know our business is supporting other like-minded vendors." 

Lily Cheung, Director of Operations - The Arts Conservatory