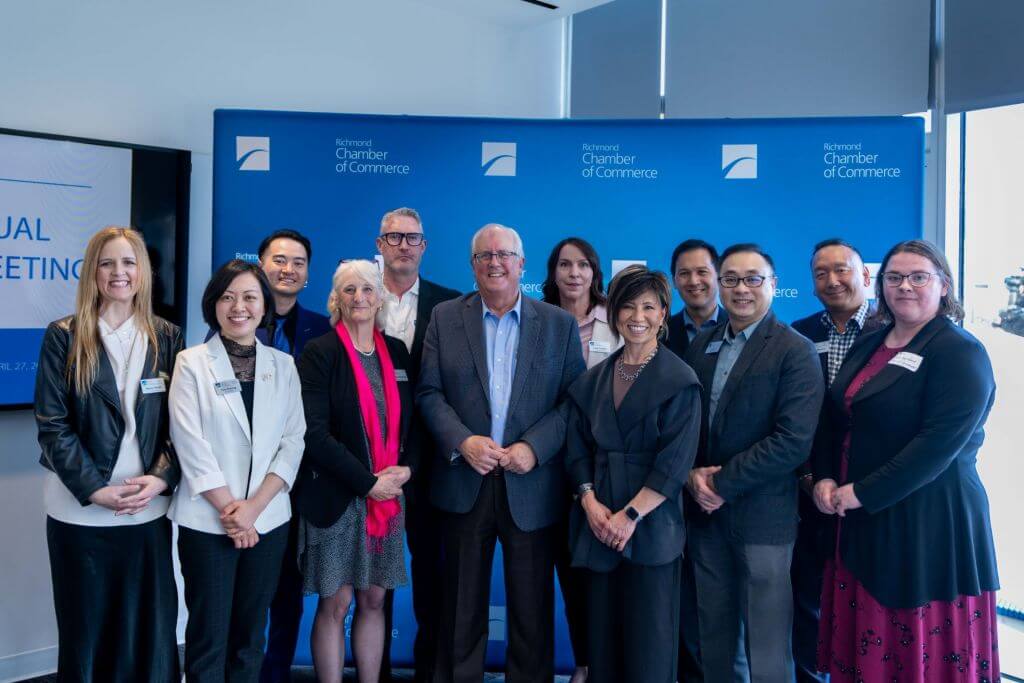 Back Row: (Left to Right) Nancy Small, Samson Chan, Grant Bryan, Lisa Cowell, Jason Tse, Mike Matsuo; Front Row: (Left to Right) Cila Kwong, Carolyn Robertson, Mayor Malcolm Brodie, Lisa Wong, Fan Chun, and Naomi Horsford
Richmond, BC – On April 27th, Richmond Chamber of Commerce members gathered for their Annual General Meeting. Lisa Cowell was unanimously confirmed as the 2023/2024 Chair of the board.
Cowell thanked her predecessor, Carolyn Robertson, for laying a strong foundation during her leadership of 2 years. "I am looking forward to continuing the positive momentum that the organization has achieved," said Cowell. "Our organization is in great hands, with a solid strategic plan and the right team to deliver results."
The Richmond Chamber of Commerce 2023/2024 board of directors:
Chair Lisa Cowell, Apostrophe PR
Vice Chair: Jason Tse, Vancouver Airport Authority
Corporate Secretary: Naomi Horsford, Vancouver Fraser Port Authority
Treasurer: Fan Chun, Dr. Power
Executive-at-Large: Samson Chan, London Drugs
Executive-at-Large: Lisa Wong, Lauren Financial
Immediate Past Chair: Carolyn Robertson, Kwantlen Polytechnic University
Directors:
Grant Bryan, O'Hare's GastroPub & Liquor Store
Mirjana Galovich, Gateway Theatre
Chuck Keeling, Great Canadian Entertainment
Cila Kwong, RBC Insurance
Mike Matsuo, Vancity
Nancy Small, Tourism Richmond
Connor Williams, Ashton Service Group
The AGM was sponsored by Trinity Western University with a cocktail-style networking reception.
JOIN THE CHAMBER
Discover a new world that will help you grow and better your business!
Testimonials
"At Scotiabank, we believe that every customer has the right to become better off. Our partnership with the Richmond Chamber of Commerce enables us to connect with and understand our community; and provide support to hardworking local business owners through financial advice and solutions to help them achieve success."

Christine Lim, Branch Manager - Scotiabank Richmond Financial Centre