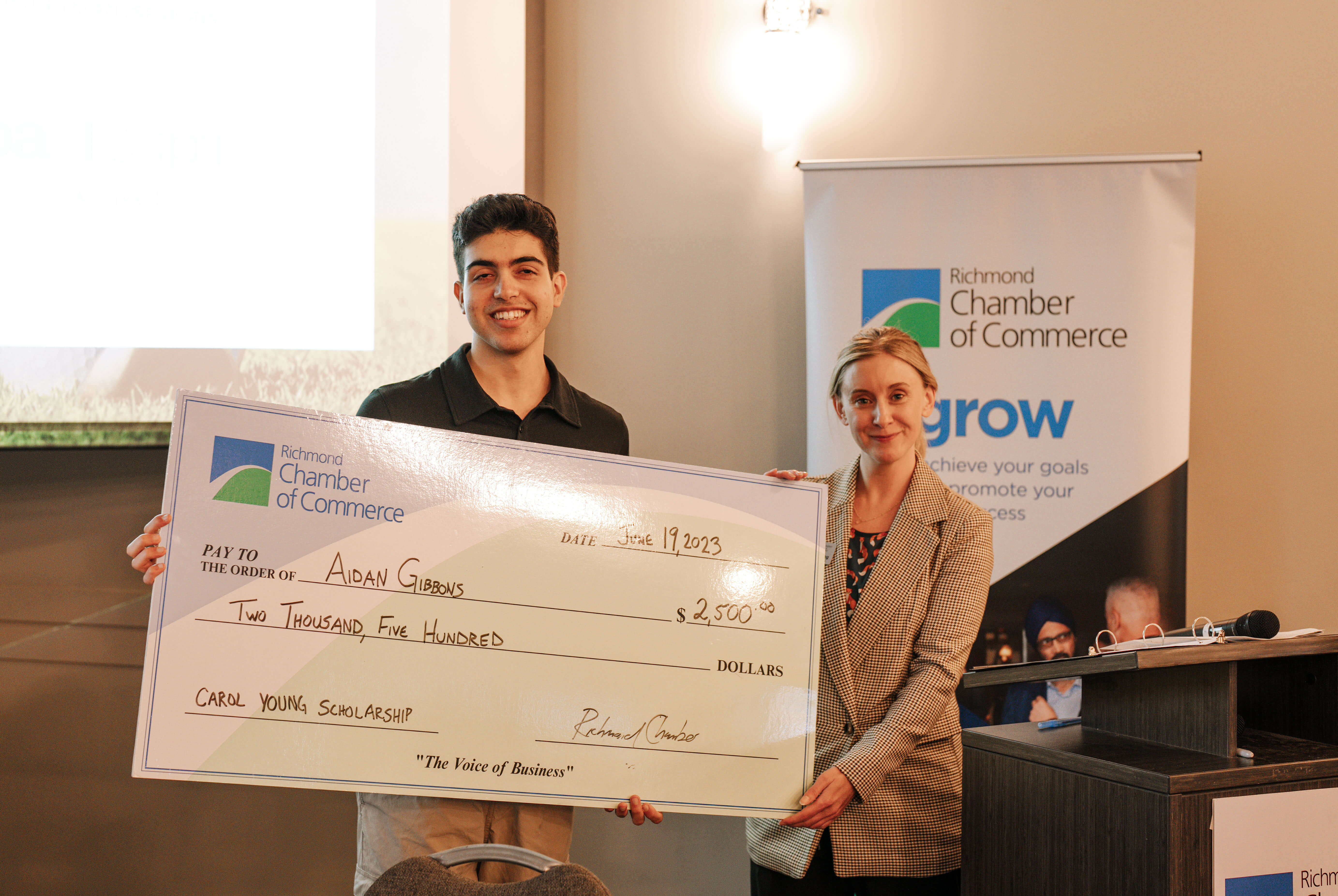 Richmond, BC – On June 19th, the Richmond Chamber of Commerce announced its 2023 Carol Young Scholarship Recipient, Aidan Gibbons. The announcement was made at the Chamber's 40th Annual Golf Tournament, proceeds of which help to support the scholarship.  
Gibbons is a graduating student from A.R. MacNeill Secondary School who was born with an eye condition called Aniridia, meaning he is legally blind in both eyes. Despite the adversity he faced living with a visual disability, he persisted. He created and led programs to help fellow visually impaired students, exemplifying leadership skills.    
Shaena Furlong, President and CEO of the Chamber shared, "Aidan is a truly remarkable young man. His application clearly illustrated a remarkable drive to help others and make our world a more inclusive, accessible place. As he begins his studies in Management at UBC Okanagan, I am sure his tenacity, thoughtfulness, and entrepreneurial spirit will serve him well. We hope that this $2,500 scholarship helps contribute to his success. I would like to thank our members whose support is fundamental to this award."  
This scholarship honours Carol Young who built her career at the Chamber for 25 years (1991- 2016), and continues to lead in her community, bringing joy to her many friends and family in retirement. This award recognizes students who have overcome significant adversity in their lives. Despite challenges they may have faced, they have demonstrated improvement through their work ethic and have inspired fellow students. 
-30 - 
The Richmond Chamber of Commerce is a broad-based non-profit membership association, celebrating over 90 years of commitment to make Richmond the most prosperous and favourable place to do business. 
JOIN THE CHAMBER
Discover a new world that will help you grow and better your business!
Testimonials
"Participation in the Richmond Chamber of Commerce has proven to be an excellent way to connect with, contribute to, and learn from the Richmond business community. As a young business professional myself, the Chamber of Commerce has directly impacted my growth and success at Novex. This is largely due to the hardworking staff who put on numerous events and are always available to offer their support to members."
Brett Surgenor, Brand Manager - Novex Delivery Solutions