From Recreation to Advancement
Richmond FC, a non-profit youth organization, is dedicated to providing recreational and advanced development soccer programs for children aged three to 18. Led by the passionate and devoted Executive Director, Marius Roevde, the primary objective of Richmond FC is to instill a love for soccer in kids and encourage their participation in physical activities.
Marius brings a wealth of experience to Richmond FC, having played professional soccer in various European countries, served as a coach and director at Trinidad and Tobago Football Federation in the Caribbean, and coached for Minnesota United and the Vancouver Whitecaps.
Upon arriving in Richmond, Marius embraced the challenge of rebuilding and rebranding Richmond FC, with a strong belief in the organization's ability to make a positive impact in the community. Under his leadership, Richmond FC has witnessed remarkable growth, doubling its membership since 2019.
Despite facing unprecedented challenges, such as the COVID-19 pandemic, Marius remained committed to ensuring the club's financial stability. He took a salary cut and implemented creative initiatives, such as a car lottery, to generate additional revenue. Richmond FC's resilience paid off, as they not only recorded a surplus during the pandemic but also provided full refunds to their members, earning recognition from Canada Soccer.
Building a Strong Community Through Soccer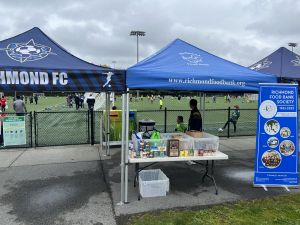 Beyond the soccer field, Richmond FC actively supports the local community through various initiatives. They have partnered with the Richmond Food Bank, distributing food supplies and securing financial contributions to combat food insecurity. The club also extends its support to marginalized groups by providing free academies, uniforms, and food.
Looking ahead, Richmond FC and Richmond United SC, the preferred boys' and girls' clubs respectively, have officially announced their merger, forming Richmond United Football Club. This merger is driven by the shared mission of prioritizing children and enhancing the soccer landscape within the community.
Last year, Richmond FC's remarkable growth and dedication to community impact, inclusivity, and excellence earned them the prestigious Association of the Year award at the 45th Annual Business Excellence Awards.
Marius keeps the award on his bedside table, with pride of place beside his wedding photo. He says, "when I wake up, I look at it and it reminds me about what I'm going to do. Why I'm working for this club. It means the most for me because I think it shows the whole picture of us as the organization."
Overall, Richmond FC's transformative impact on lives and the establishment of a unified soccer community have solidified its position as an outstanding youth organization.
---
JOIN THE CHAMBER
Discover a new world that will help you grow and better your business!
Testimonials
"Participation in the Richmond Chamber of Commerce has proven to be an excellent way to connect with, contribute to, and learn from the Richmond business community. As a young business professional myself, the Chamber of Commerce has directly impacted my growth and success at Novex. This is largely due to the hardworking staff who put on numerous events and are always available to offer their support to members."
Brett Surgenor, Brand Manager - Novex Delivery Solutions