Founded by Kevin Wang and Peter Lu, UniUni is one of Canada's fastest-growing last-mile logistics companies. This Richmond-based tech startup takes an innovative approach to last-mile logistics. Instead of relying on a fleet of UniUni delivery trucks, they empower gig workers to leverage their own vehicles for deliveries.
In 2019, Peter and Kevin began their entrepreneurial journey in the food delivery industry, navigating the highly competitive landscape. They soon realized that there was more opportunity to innovate in parcel delivery than food delivery. Since the technology infrastructure for food delivery, ride-hailing, and parcel delivery was very similar, disrupting logistics was convenient and cost-effective.
Their breakthrough came when the right person noticed one of their vehicles on the road and connected them with an e-commerce giant, Shein. As the e-commerce industry boomed during the COVID-19 pandemic, so did the demand for parcel delivery. UniUni seized this opportunity, transforming from a local delivery service into a nationwide provider, serving Canada coast to coast and even expanding into the United States.
Connecting Communities One Parcel at a Time.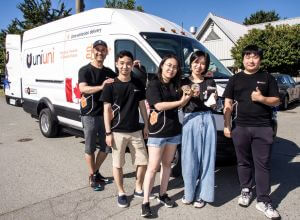 Growing from a team of four, UniUni currently employs over 800 people and more than 7,000 drivers. With flexible scheduling options, optimized delivery routes, and competitive pay, UniUni attracts drivers from an array of backgrounds, including students and busy parents.
UniUni's growth has been remarkable, as they went from handling 1,000 parcels to 100,000 parcels daily within less than four years. Of course, such rapid growth comes with challenges, including opening new warehouses in different cities, strategically allocating resources, and rapidly hiring.
However, Kevin and Peter's dedication and perseverance kept them on the path to success. According to Kevin, "it's important to draw inspiration for the challenging tasks ahead from the knowledge that we are doing meaningful work, improving the infrastructure of Canadian e-commerce logistics."
Despite their success, UniUni remains true to its values. They invest in electric vehicles to reduce their environmental impact. They also give back to the community by offering scholarships to local high school students interested in pursuing careers in technology.
With a three-year revenue growth of over 12000%, they're well on their way to being a billion-dollar company. UniUni is a shining example of how a small, innovative company can disrupt a massive industry by leveraging technology, innovation, and community support.
---
JOIN THE CHAMBER
Discover a new world that will help you grow and better your business!
Testimonials
"Participation in the Richmond Chamber of Commerce has proven to be an excellent way to connect with, contribute to, and learn from the Richmond business community. As a young business professional myself, the Chamber of Commerce has directly impacted my growth and success at Novex. This is largely due to the hardworking staff who put on numerous events and are always available to offer their support to members."
Brett Surgenor, Brand Manager - Novex Delivery Solutions