A Legacy of Resilience and Adaptability

Ashton Mechanical Group is a plumbing, heating, and air conditioning company based in Richmond. They have three distinct divisions encompassing new construction, commercial service, and residential services. In 1987, this family business was founded by Brian Williams who took a leap of faith to establish his own plumbing company, alongside his wife, Julie Williams.
Like many small businesses, in the early years, Julie and Brian had to navigate the financial constraints and the complexities of entrepreneurship and leadership. However, their dedication and perseverance allowed them to overcome these challenges and shape the company's legacy, fostering a culture of resilience and adaptability.
As the company grew over the years, Brian and Julie hired technicians with diverse skills. When their son Connor Williams joined the company, he leveraged the different strengths of each technician to diversify operations. He's played a pivotal role in growing the residential division and took on the Vice-President role in 2021.
Expanding Horizons and Embracing Challenges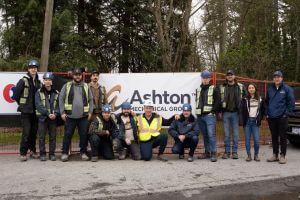 In recent years, Connor identified recruitment and retention as one of the industry's biggest challenges. Embracing this challenge, Ashton launched a technician apprenticeship program, reflecting the culture of adaptability and resilience that Julie and Brian established. With the new apprenticeship, Ashton onboards technicians with no prior experience and provides comprehensive training, covering both soft skills and technical knowledge tailored to staff personalities.
This innovative program not only addresses labour needs but also ensures a high level of service to customers. Along with the new apprenticeship, Ashton has implemented an innovative Vendor Managed Inventory partnership with one of their key suppliers, making daily operations convenient for their technicians.
Connor says that at Ashton, investing in people has always been top of mind. He emphasizes the importance of providing their employees with a workplace that motivates them, enhances employee experience, and keeps them happy. He says "we ask our employees to deliver a high level of service, in exchange, I feel like we have to deliver that same level of service to our employees."
Looking ahead, Connor envisions Ashton becoming the benchmark for employee satisfaction and service quality in the plumbing and HVAC industry. Ashton Mechanical Group's journey is a testament to family values, innovation, and a steadfast commitment to employees and customers.
---
JOIN THE CHAMBER
Discover a new world that will help you grow and better your business!
Testimonials
"Participation in the Richmond Chamber of Commerce has proven to be an excellent way to connect with, contribute to, and learn from the Richmond business community. As a young business professional myself, the Chamber of Commerce has directly impacted my growth and success at Novex. This is largely due to the hardworking staff who put on numerous events and are always available to offer their support to members."
Brett Surgenor, Brand Manager - Novex Delivery Solutions